A massive manhunt is under way in Spain for the man suspected of killing 13 people and injuring scores on Barcelona's Las Ramblas on Thursday.
Spanish media named the man being sought as 18-year-old Moussa Oubakir.
He is suspected of using his brother's documents to rent the van that mowed down people on the famous landmark.
Hours later, police killed five suspected jihadists in a second vehicle attack in the town of Cambrils. A woman injured in that attack has now died.
Police said the men killed in Cambrils were linked to the Barcelona attack, which the Islamic State group said it had carried out.
Spanish Prime Minister Mariano Rajoy condemned what he called a "jihadist attack" in Barcelona. He has announced three days of national mourning and a minute's silence was held at noon (10:00 GMT) on Friday.
Who is being sought?
Spanish media have quoted police as saying that they are seeking Moussa Oubakir, but they will not say directly that he is the man believed to have been behind the wheel of the van.
Two images of Moussa Oubakir have been used in the Spanish press, taken from social media.
The driver of the van fled on foot after mowing down tourists and locals on Las Ramblas.
Catalonia's Interior Minister, Joaquim Forn, quoted by the Associated Press, said: "We had local police on the scene, but we were unable to shoot him, as the Ramblas were packed with people."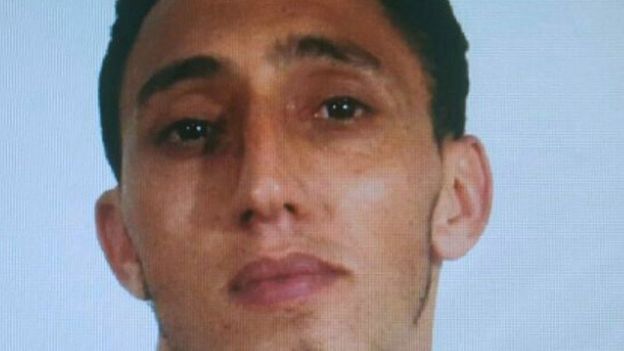 Spanish media say Moussa Oubakir rented two vans, the one used in the attack and another found hours later in the town of Vic, north of Barcelona, and intended as a getaway vehicle.
His brother, Driss Oubakir, was arrested after reportedly turning himself in on Thursday.
Reports suggest Driss Oubakir, who is in his 20s and was born in Morocco, told police he was not involved and that his documents had been stolen.
Three other arrests have been made, but no names have been given. One man, born in Melilla, the autonomous Spanish city on the north coast of Africa, was held on Thursday.
Another arrest took place in the Catalan town of Ripoll on Friday. A fourth arrest has now been announced but no details have been given.
What happened on Las Ramblas?
A Fiat van was driven down the pedestrianised avenue on Thursday afternoon, weaving from side to side and deliberately targeting people.
Las Ramblas is a central boulevard that runs 1.2km (0.75 miles) through the centre of Barcelona from the city's Plaça de Catalunya (Catalonia Square) to the Christopher Columbus monument at the seafront.
A businessman from New Orleans, who was just arriving in a taxi in Las Ramblas, said the van was "weaving left and right, trying to hit people as fast as possible. There were people lying on the ground".
Kevin Kwast, who is on holiday in Barcelona with his family, said: "Hundreds of people started stampeding through the market… we started running with them going outside right into where casualties were already on the ground."
Source: BBC
What do you think? Leave your comment below.